Tact is...
A compact multimodal wearable input device.
Capacitive touch
Tact features a 2-inch multitouch trackpad. This can be used for traditional cursor-based navigation, directional swipe gestures, and clicking when Tact is used as an airmouse.
Motion
Tact functions as an airmouse, allowing you to navigate using wrist and arm movements. It features a 6-DOF IMU chip from Invensense, combining accelerometer, gyroscope, and onboard sensor fusion.
BLE
Tact uses Bluetooth Low Energy to communicate with your other devices. It works with any device that supports HOGP (HID over GATT). It is configured, customized and upgraded using our app for iOS or Android.
Simple, powerful, control.
Tact is a minimalist device. It combines two features that have existed for a long time, adds the most current standard of wireless connectivity, and packs it into a tiny and convenient wearable clip. It isn't revolutionary technology, but it is a revolutionary device. Well, perhaps revolutionary is overstating it. That gets bandied about quite a lot, doesn't it?

This isn't the end-all, be-all of input devices. But it's clever, inexpensive, attractive, and very useful. It's also only the beginning of what we want to do and what we want to contribute to the fields of wearable computing and IoT.

Speaking of IoT, one of the coolest use-cases for Tact is as a general purpose interface for your IoT ecosystem.
Who we are
Tact Project Contributors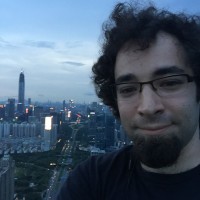 Noah Zerkin
Maker in Chief
Noah has been experimenting with home-built wearable input devices for six years. Tact is his first commercial product. His past work includes developing interactive experiences for major brands, building flight simulators as part of NASA-funded research, and hacking the Invensense MPU-series.